Environment´s information
Miranda de Arga
It is located in the Santiago´s Path. The consistorial house is of the beginning of the XIX century. The palace of The Towers or Colomos are from the end of the XVII century, baroque, with balustrades in attics and twisted columns on the façade. There are some vestiges of the medieval castle and of its walled enclosure. A gothic bridge with some later reconstructions, of 110 m long, saves the river Arga in the ground part of the village, and it has nine arcs. There are also lordship blazoned houses of the XVII-XVIII centuries. In the esplanade of the High of the Moorish is the basilica of the Virgin of the Castle, built from 1683 and with baroque altarpiece. The parish has some defensive structures, and it is a mainly a building of the XIII-XIV centuries, with chapels of other centuries and baroque arcade. In the isolated Cahués there are Romanesque remains in the hermitage of San Juan Bautista. The village has fronton and swimming-pools.
Tours
Castle of Olite, Las Bardenas. Enclousure of Artajona, Park of the nature Senda Viva.
Activities
Hiking, cycling, horse riding.
WHERE TO GO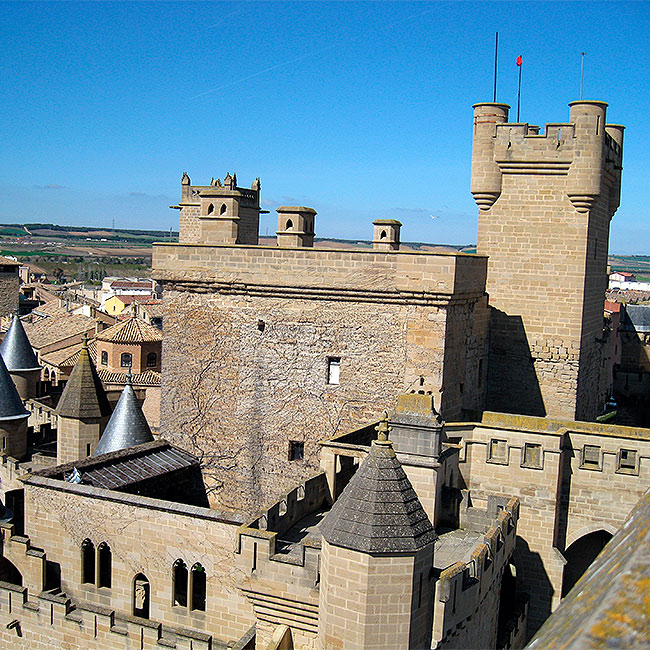 Conjunto medieval de Olite
Caminar por Olite es adentrarse en una trama urbana medieval fascinante en la que sobresale su gótico castillo palaciego con sus gruesos muros y torres almenadas. Caserones de piedra con sus blasone...

Catedral de Calahorra
Calahorra, la antigua Calagurris, fue una de las más importantes ciudades del Imperio Romano en España. La catedral se encuentra situada a orillas del río Cidacos, custodiada por el Palacio Episcopa...

Los Picuezos - Autol
No puede mencionarse Autol, sin una referencia al monumento natural que significa el auténtico símbolo de la localidad –Los Picuezos- o La Picueza y el Picuezo como también se les conoce. El viento, e...